An online research report by "after-life" investment experts firm, Cremation Institute, found out nearly 90% of cryptocurrency investors worry about losing their funds once they pass on.
Despite the fear, less than a quarter of total investors have a solid plan of what happens to their assets after death.
Women are more than twice likely to have a plan of their crypto assets after death than men.
The online research was carried out across 1,150 participants of different ages from 18 to 73 spanning from October 2019 through July 3, raising important points of note in crypto investors' estate plans.
The research found out that 89% of crypto investors worry about their funds once they pass on. Of the four generational categories placed – Gen Z, Millenials, Gen X, and Baby boomers – the latter shows more concern for their assets, with over 85% of the population in this age group "constantly or sometimes" thinks of their funds' post-life.
So what's the plan to deal with the worry? Mostly nothing. The report showed that despite the majority of this community in fear of losing their coins, only 23% of them have an actual plan in place. Unsurprisingly, the younger population (18-40) dominated in having no crypto estate plan – a concerning 59% of Generation Z crypto holders have no plan, while 35% of Millennials also reported the same.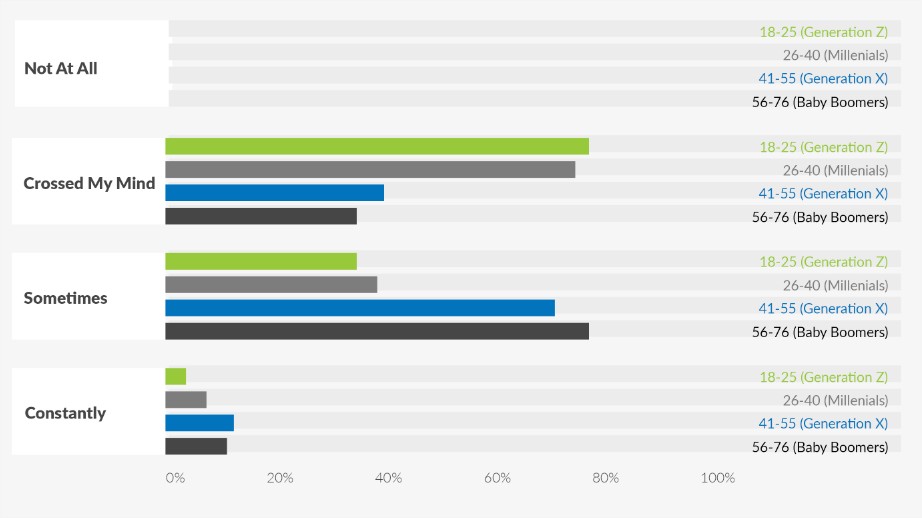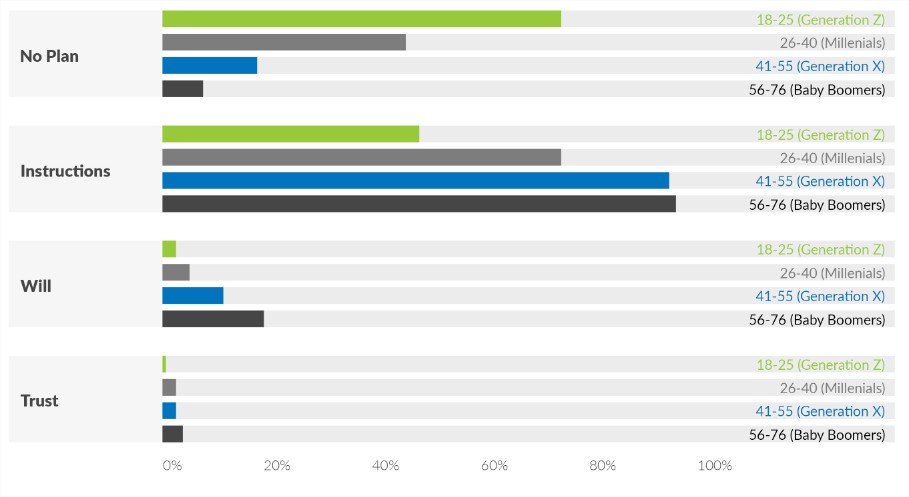 A Risk Till Death
Not only do millennials and Gen Z lack a crypto estate plan, but most do not have a preference for setting up a plan in the future either. While older generations, Baby boomers and Gen X, show they prefer having a crypto estate plan for the future, and 94% and 86% agreeing, respectively. Millennials and Gen Z are much less likely to have a plan, with only 65% and 41% reporting some sort of plan, respectively.
Women are generally twice as likely to have a plan in place (mostly passing down assets to kin) as men do. In all generational categories –bar Gen X – women had some sort of cryptocurrency contingency plan in case of death. Younger women are even more careful than their male counterparts, with a staggering 71% of Gen Z women having a crypto estate plan compared to 41% of males in that age group.
What are the Preferred Estate Options?
This research concluded that only 7% of crypto holders add their digital assets to their wills compared to the industry average of 32% – over four times the difference. Again, younger people are less likely to have a will at all – 18 to 40-year-olds at 18% – while only 3% of the crypto holders in the same age group add their crypto to final wills.
Of those that do have an estate plan in place, 65% store their digital assets in their household, allowing a spouse (or next of kin) access in case of death. A further 17% and 15% store their digital assets on their computer or a USB drive, respectively. Only 2% hold the assets in a safety deposit box.