Bitcoin Price is $5,310 BTC/USD, Analyst is 66% Bull, 33% Bear; BTC Now Only Down 75% From All Time High
---
Welcome back crypto family, the bitcoin price is surging again reaching $5,310 with a 4% change in the last 24 hours and continues to rope in more believers who see bitcoin's future becoming bigger and brighter despite some short-term uncertainty. Many concur that once the news gets out, new money will flow in and hold the price or increase it. The last time $BTC broke $5,000 USD it hit its all time high of near $20,000 within 66 days.
The cryptocurrency trader and investor Josh Rager, wrote a tweet in which he says that he is 66% bull and 33% bear. He mentioned that although there is a bullish sentiment in the space, we must assume that there will be retracements and accumulation periods. It is the question on everyone's mind, will BTC/USD price see $6,000 or $4,000 first?
Josh Rager 66% Bullish, 33% Bearish
Josh Rager must be human because he is 2/3 up and 1/3 down, and if you are like most aspiring humans, 8 hours of hibernating like a bear daily is the reported optimal. But, this is Bitcoin, and things are related and correlated differently around these digital waters.
The first week of April was very positive for Bitcoin that surpassed $5,000 for the first time in more than four months. This has generated a very positive sentiment in the market after a year in which digital assets lost more than 80% of their value.
Mr. Rager seems to be one of the more realistic individuals and traders in the market right now. While Twitter feeds are full of bullish messages and charts showing which could be the next all-time high, he accepts that although we are in a bull market, we should also assume retracements with accumulation periods.
He went on saying that he is a buyer close to $4,200 and also below that target. He finalized his tweet saying that with all the Bitcoin future price predictions available it would not matter if people bought Bitcoin at $5k or at $3k.
People ask if I'm full bull now

Currently I'm 66% bull & 33% bear

We can't deny the bullishness of $BTC but should assume retracements w/ accumulation

I'm a buyer at $4,200 & below

And IMO, w/ $BTC future price predictions it likely won't matter if one bought at $5k or <$3k

— Josh Rager 📈 (@Josh_Rager) April 7, 2019
Adds up but if you miss out on 4k to 5k and wait to buy after it rips up to 8k or 9k cause you were waiting on 3k

You'll be quite sad in two years

That's my point

Its way smarter to scale in

— Josh Rager 📈 (@Josh_Rager) April 7, 2019
More Bullish Crypto Twitter Community Reactions Incoming
Peter Brandt, a recognized trader and investor said a few days ago that he would not be surprised if Bitcoin enters a new parabolic phase. Nonetheless, he has also said that he does not know whether Bitcoin will start growing from now or if it will fall once again as it did back in the bear market in 2014 and 2015.
Either from Dec '18 low or from retest of same (circa analog dbl bottom in 2015) it would not surprise me if $BTC enters a new parabolic phase. $btcusd pic.twitter.com/XV89Qz7P4n

— Peter Brandt (@PeterLBrandt) April 5, 2019
This latest bitcoin price uptick also brings the BTC exchange rate value to only 75% down from its all time high prices:
Bitcoin nearing $5,300 again, it is now less than 75 percent down from its all-time high.

A long way to go towards a full recovery in terms of price but the industry remains very active. pic.twitter.com/Vw7cxIec7I

— Joseph Young (@iamjosephyoung) April 7, 2019
Price Rally Predicted as Bitcoin Blockchain Hits Unprecedented Number of Transactions
It has now been confirmed that recently, the volume of transactions being passed through the Bitcoin blockchain is considerably higher than usual. This number has been higher than expected at least two times in the last fortnight.
Before now, the highest number seen was 2,722 transactions per block on the 20th of December, 2017. Coincidentally, this was three days after Bitcoin hit its all time high price of which was almost $20,000.
New All-Time High Number of Transactions
On March 26, a few days before the recent price surge, activity on the Bitcoin blockchain increased and reached 2,734 transactions per block, which was a record. Four days later, this record was broken as the number reached 2,745 transactions per block. This, it might be interesting to note, happened just a few days before Bitcoin rose unexpectedly by about $1,000 to reach the 2019 all-time high figure of $5,000.
This activity was also felt in many other corners , notably Baidu and Google. On Baidu, the "Bitcoin" words started to trend and on Google, in the two days before April 2nd, search for the word increased more than three times the usual frequency.
What Exactly Are Bitcoin's Prospects?
As expected, the recent price rally Bitcoin experienced has had everyone wondering what the future of the coin looks like and whether it can sustain the current price.
Before every $BTC Halving has begun there have been oversold RSI indicators on the weekly.

Every year before the Bitcoin halving the price has recovered, and sometime after the halving the price shoots past the previous ATH.

This isn't coincidence. It's an algorithm that works. pic.twitter.com/GXXCUu6aTN

— CRYPTO TYTAN (@CryptoTytan) April 7, 2019
People have had varying opinions with some for and others against. One of the noted opinions for a continued rise in price is that of Peter Brandt. He has made a forecast that there will be a "parabolic advance" for the coin in the near future.
Peter Brandt has been very vocal about what he thinks Bitcoin's Prospects are and he's always quick to encourage flexibility. One reason why it might be a good idea to listen to Brandt is that he correctly predicted the bear market that began in 2017. After his prediction, Bitcoin experienced its most prolonged bear period ever.
Even though history doesn't really suggest that things would be great for the coin, opinions from experts like Peter Brandt and also Thomas Lee should be taken into consideration.
Thomas Lee, who is the cofounder of Fundstrat Global Advisors, suggested along with his firm in a recently published crypto analysis, that there is hope for the entire crypto sector and it may finally be coming out of the bear market.
The publication said: "Bottom line: We see fewer reasons to question the recent recovery [in] Bitcoin prices—the best quarter since 2017."
If these predictions come to pass and Bitcoin experiences another rally and price surge, then it's very possible that the Bitcoin blockchain would hit much higher and unprecedented numbers.
Regardless, whether a bear or bull market comes in the near future, the sector is experiencing a lot of optimism. Whether or not this optimism will translate into a favourable market condition can only be revealed by time. Of course the upcoming bitcoin halving is on everyone's radar, especially when facts and figures are formed regarding the past two block reward splits: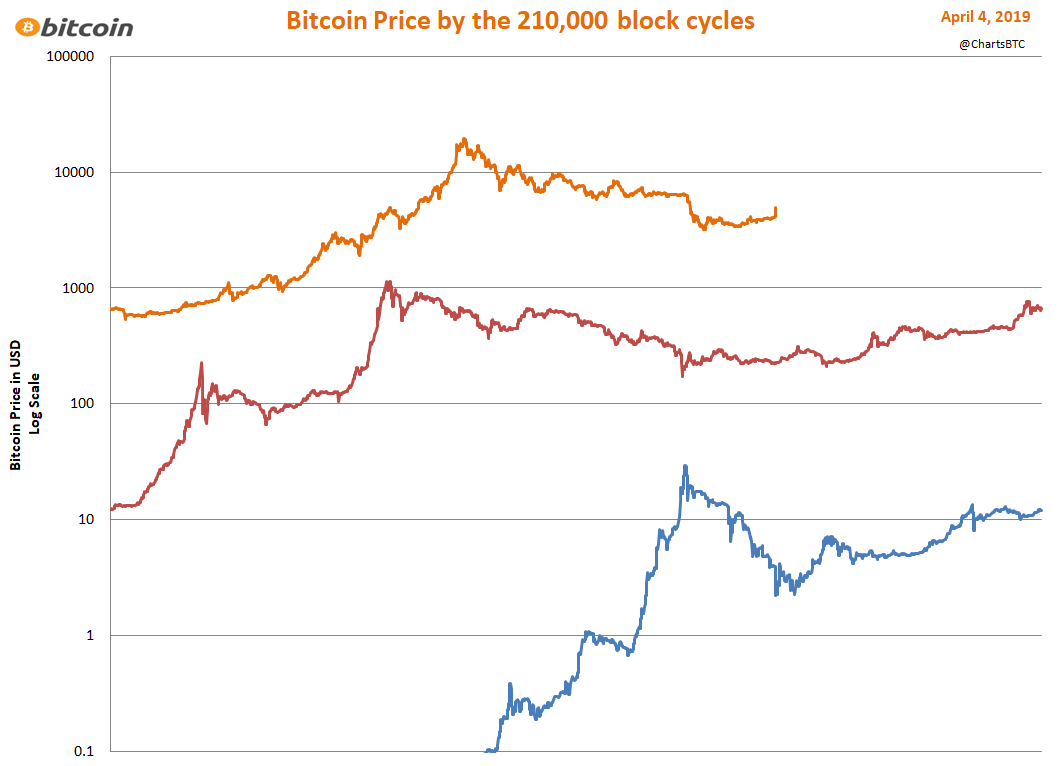 https://twitter.com/Rhythmtrader/status/1113871098624581639
Should you be prepared to buy bitcoin before the halving? At the time of writing this article, Bitcoin is being traded close to $5,310 and it has a market capitalization of over $93.3 billion.
But just remember, like our friend Josh Rager, 33% bearish conditions remain:
🚨Urgent $BTC Analysis – BLOODY MONDAY is imminent. 🚨

Spot the similarity!

There's a slight chance for a bull-trap price rise to $5400 then the Dump to $4200. Be prepared and stay safe…

You all heard it first here!$crypto #Bitcoin pic.twitter.com/TDEBq3eKtH

— Faisal Sohail 🏝️🤘 (@oddgems) April 7, 2019
Live Bitcoin (BTC) Price:
1 BTC/USD =$27,996.4063 change ~ 2.99%
---