Brave Teams Up Binance For In-Browser Crypto Trading on Latest Nightly Release
---
Popular privacy browser Brave teams up with top cryptocurrency exchange Binance in the latest release of Nightly. Giving its 13 million users a direct connection to easy buying, depositing, and trading all within the browser.
While this new feature hasn't been rolled out to everyone just yet, it is available for download if you accept the Brave Nightly versions, which is more of an experimental playground for developers. It will roll out to all versions sometime in April.
The Binance Widget will allow Brave enthusiasts to trade crypto without having to leave the browser. Brave's CEO Branden Eich explained how the new partnership is going to work by saying:
"Our focus has always been on our users. This time, it's about making crypto more usable by more people.

We already have 1.6 million users who are crypto-savvy, they have signed up for the BAT Rewards Program; now they'll be able to make crypto trades without leaving the browser".
How Is Brave Going to Look?
Brave's Binance Widget will be present in the new Nightly release from Brave, a version that is a test and development ground for playing with new features within the browser. While it doesn't sound ideal for most users, if you want to play with the latest features Brave is updating this nightly (hence the name). Sometime next month, the Binance Widget is going to become available to the full version, making it possible for Binance account holders to log in and start trading.
Here is a sneak peek at how the new browser looks: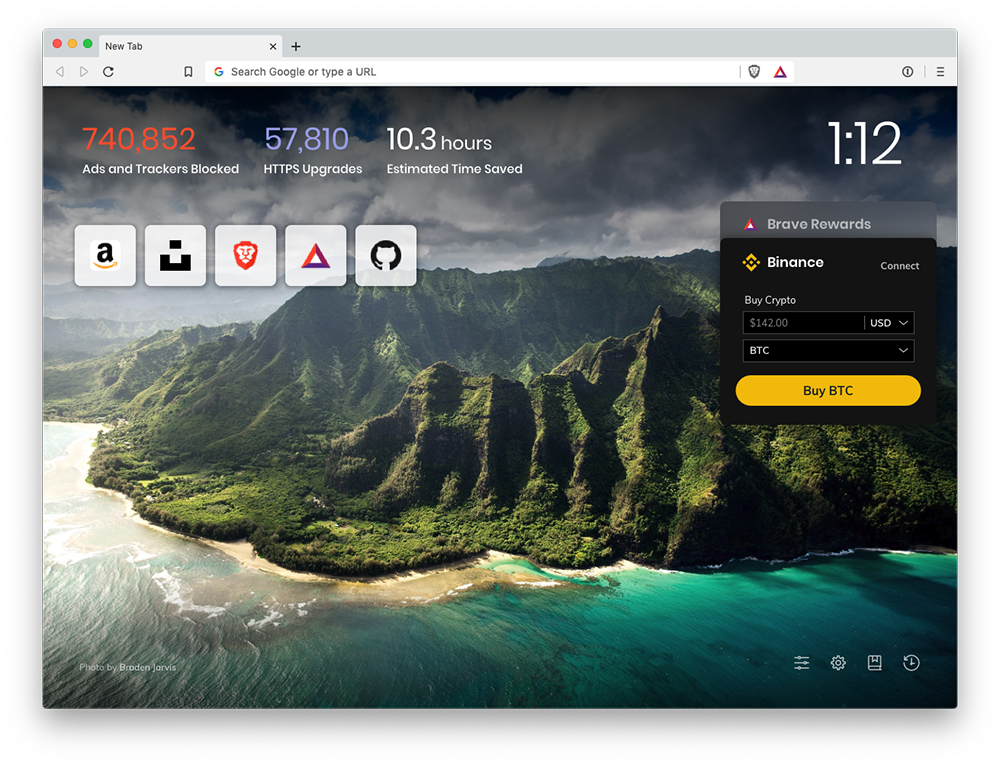 Eich said the widget is going to be mainly focused on trading, whereas Binance advanced features will be missing from it. However, it will have all the exchange's trading pairs. This means Brave can rely on Binance when it comes to the Know Your Customer (KYC) and Anti-Money Laundering (AML) compliance. Here's what Changpeng CZ Zhao, Binance's CEO, said about the Brave integration:
"The Binance widget on Brave's privacy-oriented browser instills a safer way to buy and sell crypto and also reduces user friction to onboard, trade and interact with the Binance ecosystem.

We are looking forward to our long-term partnership with Brave to make it even easier to interact with crypto and encourage more utility in the near future."
What Does the Future Hold for Brave?
Eich mentioned a few things about Brave's future and said the browser may extend to messaging, and computer/smartphone operating systems, but for now, it's only about the browser. He also talked about how the fully decentralized internet doesn't seem to be in the cards at the moment, the more realistic projects being blockchain-based VPNs such as Brave VPN0.
In the meantime, Google has abandoned the launch of Chrome M82, focusing its resources for development on M83 as a result of the COVID-19 crisis. In case Binance manages to capitalize on the wide userbase at Brave, the battered crypto markets may meet a new liquidity influx.
Want to try Brave browser yourself? Click here to download the full version, or test out the Nightly release. Be sure to check out BitcoinExchangeGuide.com in the new browser to see that we are a Verified Brave Publisher.
---