"Greed" is Back in Crypto as Sentiment Improves, So is the Funding Rates and $100k Bitcoin Targets
Bitcoin price is roaring back towards its ATH, already above $46k after a 59% increase in value in the last 20 days as the industry plays a long game.
---
Bitcoin is slowly moving up, currently trading above $46,000, aiming for its next target at $50,000.
In the last 20 days, the leading cryptocurrency has increased about 59% in value as it makes its way towards its ATH from four months back but is still down 28.6%.
Much like BTC, the rest of the crypto market enjoys an uptrend, with Ether surging to $3,250. ETH/BTC has also broken above the upper trend line that formed over the course of the last few months. While ETH tends to outperform BTC during periods of positive sentiment, a fake-out possibility cannot be ruled out entirely.
Other altcoins are also up 20% to 40% in the past week. However, it's AXS that is again leading the market, up 92% in the past week to hit almost $73. AXS -0.16% Axie Infinity / USD AXSUSD $ 8.40
-$0.01-0.16% Volume 37.06 m Change -$0.01 Open $8.40 Circulating 115.61 m Market Cap 971.19 m 1 y Bitcoin and Ether Dump More Going Into Year-End, ETH Killers Showing Great Momentum 1 y South Korean Exchange Suspends Withdrawals to External Wallets, Govt. Reaches Out to Apple and Google to Block P2E Apps 1 y Axie Infinity Daily Revenue Plunges Over 94% from Peak as Daily Active Addresses Drops by 72%
@axieinfinty is unstoppable

Not only the play-to-earn platform has accounted for the majority of NFT Weekly Sales, but their native token $AXS has increased by a whopping 45.7% over the past 7-days.

100% of the addresses currently holding #AXS are in a state of profit.#defi pic.twitter.com/xKtX5CZBls

— IntoTheBlock (@intotheblock) August 10, 2021
As the price action gains momentum on the upside, so do the market sentiments, which are turning around after a prolonged period of fear.
The Fear & Greed index, which generally moves alongside the market, has now entered a state of "greed," having a reading of 70, recovering from last month's "extreme fear" when the reading was 25 at the scale of 1-100. But this isn't too concerning as the readings are volatile.
Bitcoin, however, has secured a daily close above its 200-day exponential moving average (EMA) for the very first time since May, indicating that it's firmly in an uptrend, noted Delphi Digital. As we reported, its Relative Strength Index (RSI), which measures market momentum, has also turned positive in recent weeks.
Interestingly, after maintaining negative perpetual swap funding rates, funding has started to pick up amidst recovering sentiments. Positive funding rates imply a perp price higher than the index price, indicating more traders are entering longs.
Still, despite the price nearing $50k, the highest Bitcoin funding rate is 0.0268% on OKEx, as per Bybt.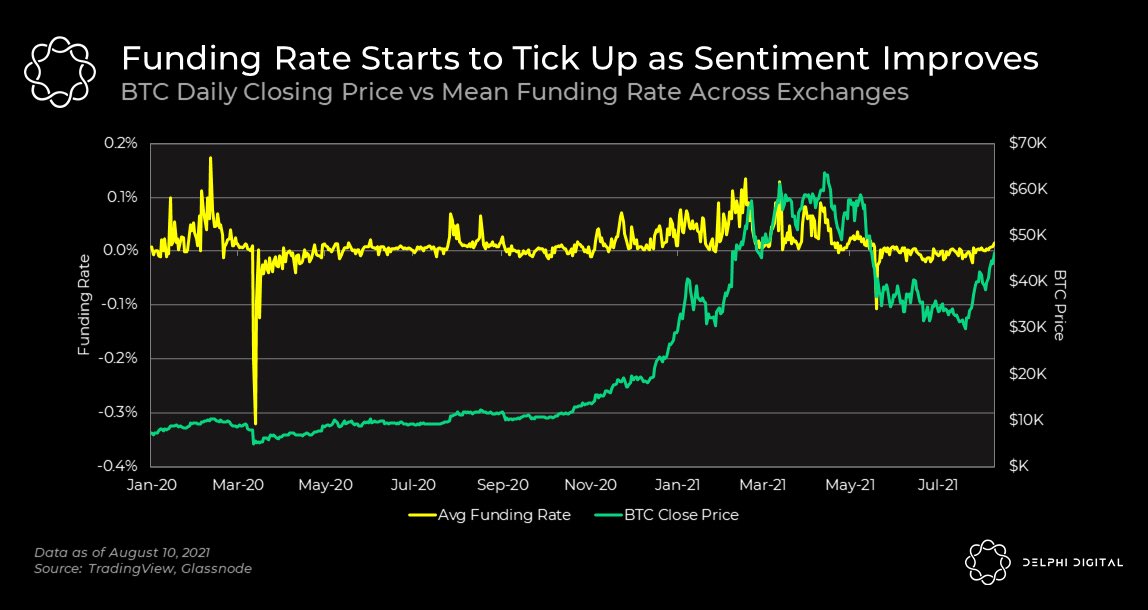 Now that bitcoin is back into action, the analysts are again calling for $100k price targets. This makes sense given that Bitcoin is up for four straight weeks and having its fastest 21-day advance since February.
"It's still got plenty of room to get the old high," Bloomberg Intelligence's Mike McGlone said in an interview. "And guess what? If it just follows Ethereum, it goes to $100,000."
Fundstrat Global Advisors' Tom Lee is another one seeing BTC reaching $100,000 by the end of 2021. "With Bitcoin crossing above its 200D, we think Bitcoin will rally strongly into," year-end, Lee wrote in a note.
The rally also comes despite the potential new tax reporting requirements, which are seen as a positive thing in the crypto community. However, a change in crypto reporting rules in the infrastructure bill was blocked, and the original bill with the overreaching definition of "broker" passed in the Senate on Tuesday.
my whole argument at 30k for why it was bottom was because the people who were going to sell had sold

i guess my argument for why current news events dont matter *that much* is because who is going to change their spot positioning on bitcoin because of it?

— loomlock.eth🤠🤠🤠 (@loomdart) August 10, 2021
While China's ban showed the resiliency of the overall network, the regulatory debate in the US shows just how big and effective the crypto community and industry are in Washington.
"It's roaring back," Meltem Demirors, chief strategy officer at crypto asset manager CoinShares, said in an interview. Despite new regulatory scrutiny, "many investors perceive this as positive news and a positive catalyst because it's clearing up a lot of the confusion or some of the uncertainty. And I think what's being demonstrated as well is that the crypto community is no longer some esoteric corner of finance."
Similar sentiments are shared by Emilie Choi, President and COO of Coinbase, who said it "actually is a very positive thing. It's no longer a fringe thing, crypto has ultimately entered the mainstream here. This was a setback, there's no doubt about it for this past week, but we're playing the long game here."
---