YouGov Poll: Over 80% of Americans Know About Crypto With Millennial's Leading The Charge
---
A recent study by YouGov, which is an international data analytics company, showed that many people are already aware of the existence of cryptocurrency in the U.S. The results indicated that in every ten Americans, eight (80%) would know at least one digital currency. The case would have been different some few years ago.
Bitcoin Beats the Others
The research by YouGov clearly showed that many Americans know or have heard about Bitcoin (75%). Only 24 percent of Americans have heard about Bitcoin Cash, while 17 percent are aware of Ethereum. The release, however, stated that 87 percent of those who are aware of Bitcoin have never sold, bought or mined the cryptocurrency. 50 percent of these individuals reported that they do not have any arrangements for purchasing Bitcoin in the future.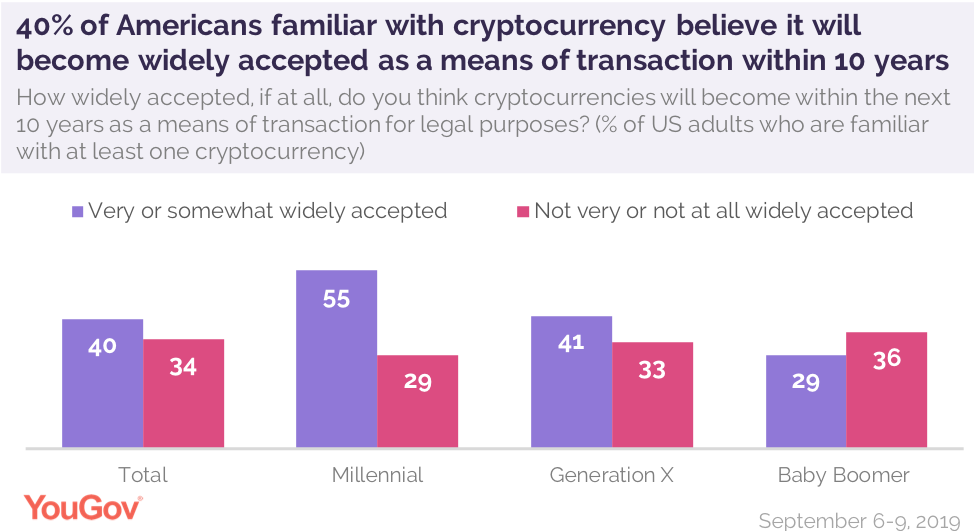 The survey also disclosed that 19 percent of respondents were willing to use cryptocurrencies, while 29 percent were "somewhat interested." However, 50 percent of the millennials stated that they did not wish ever to use cryptocurrencies as a means of payment. The statistics change, however, with age demographics. Only 36 percent of Americans seemed intrigued by applying cryptocurrency as a mode of payment.
More than a third of the millennials believe that Bitcoin investment is a viable plan. This means that millennials are more likely to purchase or mine Bitcoin as compared to the baby boomers that see it as a bad investment. Millennials are also seen to believe that cryptocurrencies are going to be widely embraced as a method of payment for transactions in the coming years.
U.S. Dollar Remains
In as much as many people believe that cryptocurrencies are going to be widely accepted, the majority admit that they still want the U.S. dollar to be used primarily. Fifty-six percent of the respondents said that they would not be interested at all in the idea of substituting the U.S. dollar with cryptocurrency.
Even the millennials who seem pretty confident about cryptos had a 39 percent respondent of not at all interested in the idea.
---